Conveyors, not just for moving from A to B!
Ask an engineer what a conveyor system is and he would define it as common piece of mechanical handling equipment that moves materials from one location to another. In todays time and age conveyors do much more than just move materials, they have become an integral part of the production process. Conveyors are capable of buying time allowing you to use manufacturing techniques that require certain gaps between processes, for example in case of the packaging industry the conveyors allow looping of retort packs after treatment so that they may cool down. Another reason for investing in conveyor systems is that it effectively, allows you to increase space within your manufacturing facilities by opening up potential to add levels to your line without any breaks or interruptions to your process. Most food processing and logistics units make use of conveyors for this very purpose. Selecting the type of conveyor can be very tricky, but let me break it down into simpler steps:
Understand your product, consider all its physical dimensions including weight and density. If it's a powder or a granular product then you might already be narrowing down your options to pneumatic, drag or screw type conveyors.
Analyse the throughput that your machines are going to present to the conveyor system.
Study the product environment requirements, some industries such as the food and beverage industries or the pharmaceutical industries will have stringent regulations regarding hygiene and may require certain certifications for your systems.
Define your controls – Do you want an ON/OFF system? A VFD controlled system for controlling the speed of the conveyor on the fly? Or a PLC controlled system to build a communication network between the production machines and the conveyor system, which will increase efficiency!
Once you've completed the above steps you can start designing, because there is no such thing as a standard conveyor. There are several different types of conveyors that you can use to engineer the solution. Some of the most common types of conveyors are:
1. Belt Conveyors
The belt conveyor is one of the most basic systems that exist today. It basically consists of two pulleys at opposite ends and a drive to rotate them. Belt conveyors can be used for general material handling or for handling of bulk material. Some considerations to be considered while designing a belt conveyor is that the load has to be considered before the design is finalised, the motor may burn out while trying to move a load that it was not designed to handle. Although this is a precaution that is applicable to all conveyors, belt conveyors have the highest chance of being overloaded, especially when used in the logistics industry.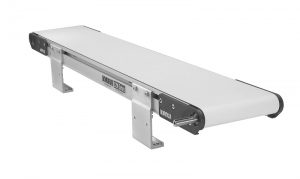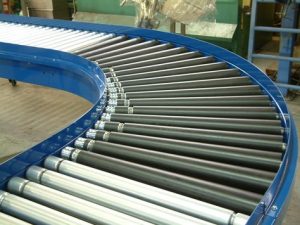 2. Roller Conveyors
Roller conveyors are optimized for transporting a wide variety of crates, boxes, polybags and pallets. A version in freewheel or electrically controlled roller conveyor gives you flexibility in layout, application and budget. This way you can efficiently use this type of conveyor in every phase of your product flow: order picking, processing, packaging, transport, etc. The modular construction offers you further options in future modifications and / or extensions.
3. Slat Chain Conveyors
Slat Conveyors are Conveyors employing one or more endless chains to which non-overlapping, non-interlocking, spaced slats are attached. Slat conveyors consist of endless chains, driven by electric motors operating through reduction gears and sprockets, with attached spaced slats to carry objects that would otherwise damage a belt conveyor because of sharp edges or heavy weights.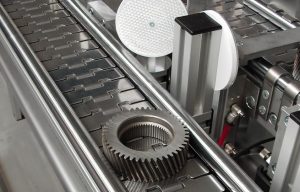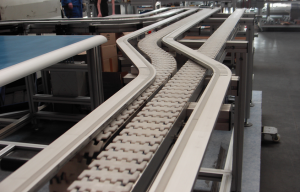 Slat conveyors are used to assemble or transfer products to a certain location. It manages to lift and transport different products. As per application one can select plastic chain or metal chain and aluminium or SS platform. One can design complicated layouts with minimum number of slat chain conveyors, as chain provides the ability to flex in multiple directions.
4. Spiral Conveyors
Spiral conveyors raise and lower materials to different levels of a facility. Spiral conveyors are able to transport material loads in a continuous flow. Industries that require a higher output of materials – food and beverage, retail case packaging, pharmaceuticals – typically incorporate these conveyors into their systems due to their ability to facilitate high throughput. Most spiral conveyors also have a lower angle of incline or decline (11 degrees or less) to prevent sliding and tumbling during operation.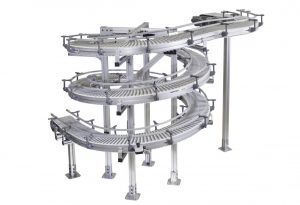 5. Alpine Conveyors
Alpine conveyor systems offer in-line first-in, first-out product transport, and can be designed to elevate, lower or buffer products between machines. Alpine systems can also be installed as offline accumulators; configured to either pre-store product or for product storage during downstream production stoppages.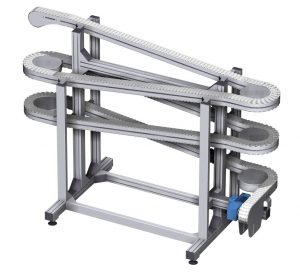 The alpine system uses multi-flex chain with a unique knuckle hinge arrangement providing extra strength compared to conventional side-flexing table top chain. The chain also provides the ability to flex in multiple directions.
Now that you know the 5 major types of conveyors, you can decide which ones suit you best. Just remember that sometimes you may have to use a combination of various types of conveyor systems to design a solution.
Phoenix Mecano India Pvt Ltd has an experienced engineering team which will help you design the perfect conveyor system for your material handling needs.