Factory Automation – Important Factors That Need Consideration to Achieve Optimum Results
Factory automation can be a daunting task given the scope of the project and the high number of vendors that operate in the industry. With an exponential growth in the field of electronics and mechanical engineering, automation systems are now capable of handling even the most complex tasks. But the question is simple, how do you stop yourself from over engineering your solution? There are two ways of going about this– the first is you design the system yourself, purchase the components yourself and integrate them to create your own solution.The other alternative is that you take help from consultants or automation experts to design solutions and go with their suggested vendors.
An important factor to consider is time, it takes time to automate as there is a whole lot of planning involved before beginning the transition. It's quite ironic that it takes time to cut down time and speed up the process, but that's the reality of the subject, it has taken the most advanced factories in China, Germany, and the USA ages to reach their current level of autonomy. Today, we will focus on how the various crucial factors that you should consider before automating your manufacturing plant.
High quality German products combined with robust Indian engineering allows Phoenix Mecano India Pvt. Ltd deliver optimized solutions to its customers.
1. Define your scope of work – keep it simple
Automating your manufacturing facility is an exciting phase for your company without a doubt. However, it is important to keep in mind that it is important to not get drawn into integrating more automation that is required for your company. Identify your short-term and long-term goals and based on that analysis, opt for an ideal automation solution. Moreover, it is also important to have clarity regarding what you want to achieve as integrating automation is very different from purchasing products off the shelf.
It is not necessary to use a six-axis robot to automate tasks that can be achieved using simple pick and place systems. Building a pick and place system is very simple, you define what has to be "picked up" and you define where it has to be "placed". The only other parameter that you have to consider is the speed of the line. With all these parameters in consideration, you will require to design a system using electric actuators, linear drives, and conveyor systems. Other considerations also include the modularity of the solution, because it is a high investment, you will expect it to work even after you scale up! Modularity can easily be achieved in 3-axis pick and place systems as single components can be changed to keep up with the growth of your business.
2. Include expansion in the pipeline
One of the factors that you should also focus on while integrating automation is the scope of expansion in the future. Define your end goals and gradually integrate the other parts to the existing systems. It is also crucial to understand and recognize the secondary operations that you could add sometime in the future. Factory automation is a multi-step process and formulating a plan for expansion and its execution is very crucial.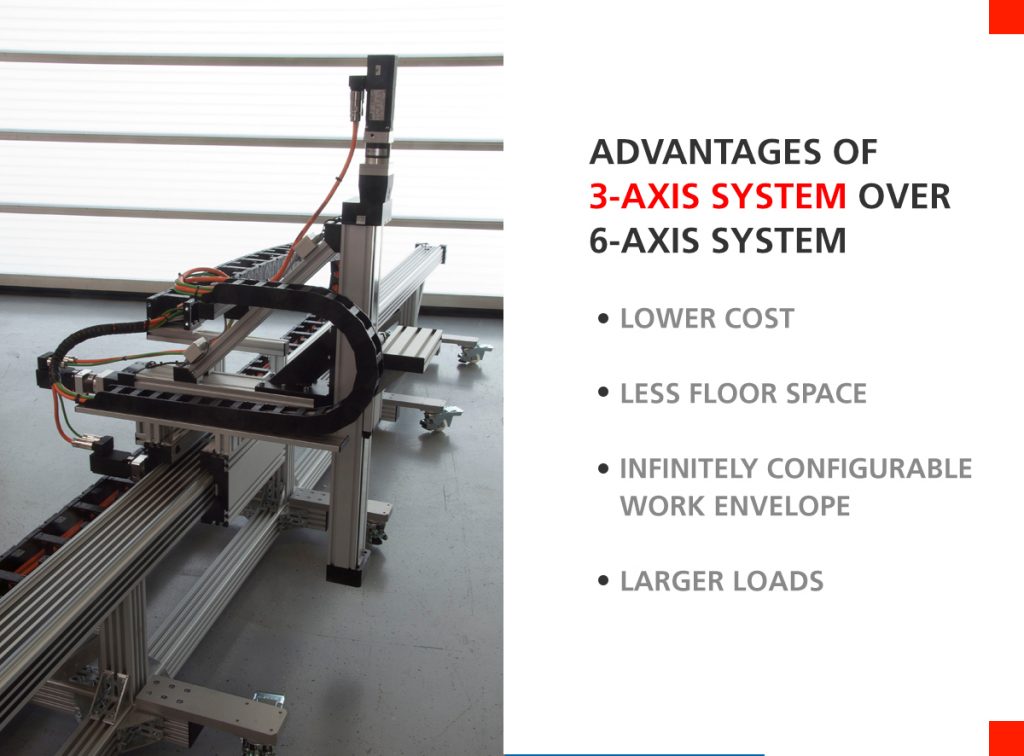 3. Advantages of 3-axis system over 6-axis system
A gantry Solution is usually lower in cost when evaluating the cost per square foot within the work envelope. As the work envelope grows in size, the gantry robot's cost advantage increases.
People may think that this doesn't make sense, but a gantry inherently must sit above or below the work envelope. This takes up less floor space and is a more efficient work envelope than the traditional 6-Axis robotic required location. The 6-Axis robot arm must be guarded and has unused floor space that a gantry can utilize in the same space where the robot guarding would have to be placed.
Infinitely Configurable Work Envelope
A gantry can be configured on each axis with an infinite amount of iterations of travel, up to a certain max travel, which challenges the laws of physics of the drivetrain of the gantry. This can be done on any axis making the 3D work envelope virtually limitless.
Due to the stability of the gantry, it can achieve a larger payload at a lower cost.
4. Be specific –components and parts
Your technical team needs to recognize and be specific with regards to the components that need to be included before starting the process of factory automation. The components include vision cameras, sensors, HMIs, electric actuators, linear drives, conveyor systems and so on. Having clarity will ensure that the process is not time-consuming and often deliver the expected results. Phoenix Mecano India Pvt Ltd has expertise in a wide range of products and solutions that will help you satisfy your automation needs.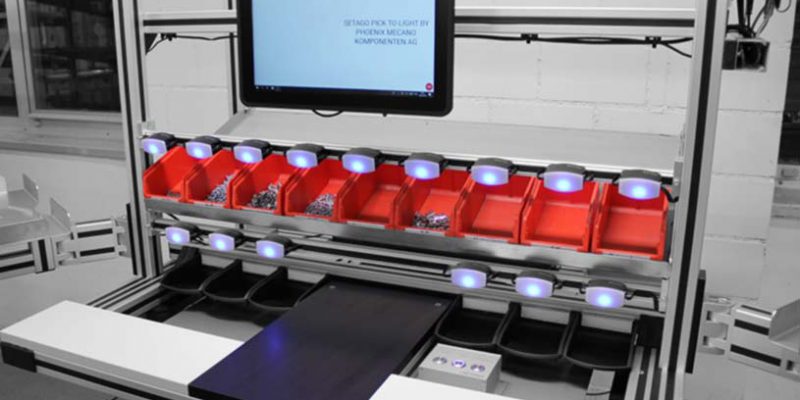 5. Pick to light systems
Another interesting approach to automation may also include digitalizing the line and doing away with your work instructions by replacing it with a simple pick to light system. Think of it as a kid's toy where the toddler is expected to push the buttons that light up, only here LED's highlight the next component that goes into the product and a screen shows an interactive graphic of the assembly procedure. This allows better tracking of production as well as better quality control because the system controls the production process.
After gaining clarity on all the points mentioned above, you can now proceed towards the next step i.e. engineering the entire process. Phoenix Mecano (India) Pvt.Ltd has rich and diverse experience in designing linear and conveyor technologies and taking your ideas to the next level. Our high-quality products including, electric cylinders and linear drives find applications in different industrial sectors and have significantly helped companies achieve optimum results.
Phoenix Mecano India Pvt. Ltd is a leading provider for turnkey solutions for your automation needs.